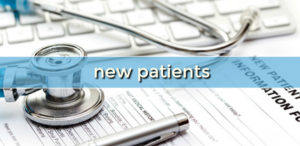 All new patients are seen by appointment only.  New patient appointments can range from 30 minutes to 1 hour, depending on the severity of your complaint.  We ask that you complete your paperwork prior to your appointment time.  Please download the forms below and complete them prior to your appointment.  Also, please have your insurance card ready, so we can verify your benefits before your appointment begins.
If you have recent x-rays, CT scans, MRI's or blood work results, please bring them with you and notify the front desk staff before your visit, so that we can schedule appropriately.
Please download the following forms and bring them with you to your visit.
Patient Health Record (Page 1)
Patient Health History (Page 2)
If you have a Medicare plan, please also download the following form.
If you have been involved in an automobile accident and have an open claim, download the following forms to replace the standard Patient Health Record and Patient Health History.
Patient Health Record and Health History for Auto Accidents
If you are having difficulty with your paperwork or if you have questions about your visit, please call us at (724) 695-3455 during normal business hours.
You may also reach us a dr.aivalotis@adjustmentschiropractic.com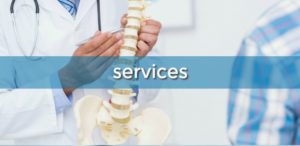 Chiropractic Services – The obvious is that we offer chiropractic services.  Dr. Aivalotis has extensive experience with several of the most popular chiropractic techniques.  Early in his training, Dr. Don was a member of the prestigous Troxell Intern Program at Palmer College.  There he was able to gain experience early by shadowing doctors who learned from one of the legends in our profession, Dr. Clarence Gonstead.  Dr. Don was teaching Gonstead chiropractic techniques by his second year of graduate school, specializing in Extremity adjusting.  Above the typical Palmer Package set of techniques, Dr. Don also has certifications and additional training in Cox Lumbar Flexion Distraction, Pettibon Methods, Chiropractic Biophysics, Pro-Adjuster Technique, Trigger Point Therapy, Thompson Drop Table Technique.  Dr. Aivalotis has his most extensive training in light force, technology-based adjusting using the Sigma Instrument/ProAdjuster, having reached the level of Master Trainer.
Sigma Instrument Methods – Dr. Aivalotis has been using this technique since 2000.  This is a computer guided, instrument adjusting technique that is so gentle that anyone from babies to the elderly can still be treated.  We get regular referrals from medical specialists due to their confidence in the effectiveness and safety of this procedure.  Even if you have had spine surgery, you may benefit from this technique.
Custom Molded Foot Orthotics – We can craft, very comfortable inserts/orthotics for your feet.  Typically, orthotics have been too hard for most patients to wear regularly.  These orthotics by Accuthotix are custom molded using a sub-talar neutral method.  This allows for a more gradual and exact match to your natural, maximum arch.  Combined with the flexible carbon-fiber shell and comforting foam cushioning, these inserts will be the most comfortable you have ever owned.  I tell all my patients, "Fixing a back is diffucult, if you start with a crooked foundation.  Many back issues could have been avoided if the patient were using custom molded orthotics."
Nutrition Counseling – Dr. Don has been studying nutrition since 1997.  We offer nutritional counselling services where we will review your bloodwork, make recommendations for you to take to your primary care physician or specialist, and make dietary and supplement recommendations to improve your overall health an well-being.
Massage – Coming Soon. We are currently looking for massage therapists to add to our team.  Contact us if you know someone who is interested in helping us grow our massage base.
In-Office Therapies – To enhance you experience and to improve your treatment outcome, we offer a variety of physical therapy modalities or adjunctive procedures.  We offer various forms of gentle cervical traction, hands-on lumbar spine distraction, rolling intersegmental traction, therapy band and ball exercises, balance exercises and everyone's favorite, electric muscle stimulation in a relaxing reclined chair with either moist hot packs or gentle ice depending on your needs.